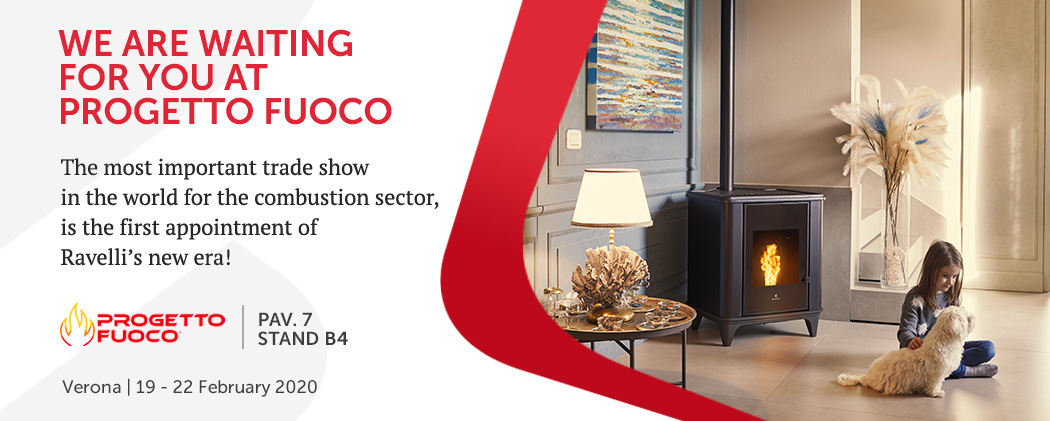 Progetto Fuoco (Veronafiere, 19-22 February 2020), the most important trade show in the world for the combustion sector, is the first appointment of Ravelli's new era. Recently purchased by OpenGate Capital, a corollary of the important acquisition of Jøtul Group, the Italian company is ready to tackle a rapidly growing market.
"Contemporary Italian style and an enormous technological component make Ravelli's intelligent heat the perfect smart brand with which OpenGate has chosen to control the open spaces in the market, creating a brand placement that is complete, consistent, and perfectly in synergy with Jøtul."
Eugenio Cecchin, CEO Ravelli
At Progetto Fuoco, the concept of intelligent heat is represented in an 880 sqm space (Stand B4 - Hall 7), curated by LUDOVICA+ROBERTO PALOMBA. The studio, in its first collaboration with the brand, has already won numerous awards and actively collaborates with renowned furniture companies, including Kartell, Poltrona Frau, and Zanotta. Very influential in the world of water (Ideal Standard, Laufen, Zucchetti, Kos), the two designers have chosen, with Ravelli, to interpret fire through a contemporary vision of society and of people's needs
Thus the creation of the SQUARE and HRV 160 DESIGN heaters: simple and minimalist contours give the flame an iconic value, recalling the feeling stimulated by fire in traditional home fireplaces. A square base and steel with a glass front for Square and glass cladding for HRV 160 Design. Designed for small spaces, and arriving in 2020, HRV SILHOUETTE features a superior flue, a hermetic structure (an innovative characteristic for hydro-stoves), and a design made of slender proportions and thicknesses, which leave space for shape and character.
Space for an all-new 2020 product as well: MAGNUS, Ravelli's first single-unit heater. A pellet stove with one-meter wide glass front and a flame with unparalleled aesthetics: over 40 cm of evocative, natural, soft, and sinuous flame.
From the technological developments and the patents that the company has developed over the years in order to meet various daily demands, comes FLEXI, the collection of intelligent heaters that combine various technologies for complete, flexible, and completely customisable heating based on individual preferences, both seasonal and on an a daily basis.
Finally, for the wood range, Ravelli is launching various products, fruit of its synergy and integration with the Jøtul Group: 4 fireplace inserts with glass front, 7 wood stove models in steel with stone cladding, and 2 wood furnaces, all of exceptional quality, with extraordinary attention to a modern aesthetic, and perfect for domestic use.
We also redesigned our logo, colours, icons, and fonts in accordance with Jøtul's guidelines, for synergy in terms of visuals and communication, as well as in the market. Progetto Fuoco is the stage on which this large and ambitious company rebranding project, with which Ravelli wishes to tangibly communicate its identity and recognisability on the market, will debu
Torna indietro